Design
The MagSafe Battery Pack has a rectangular design that matches the shape of the ‌iPhone‌, and it attaches to the back of an ‌iPhone 12‌, 12 mini, 12 Pro, or 12 Pro Max to provide extra power.
Apple only debuted the MagSafe Battery Pack in white, and it has an Apple logo. It is sized to take up the full rear of the ‌iPhone 12 mini‌ below the camera cutout, while it has a smaller fit on the other ‌iPhone‌ models. The MagSafe Battery Pack is made from a hard white plastic material.
The back side of the MagSafe Battery Pack that's visible has a rounded look with rounded corners, while the front is flat with a MagSafe indentation. There is a built-in Lightning port for charging the MagSafe Battery Pack.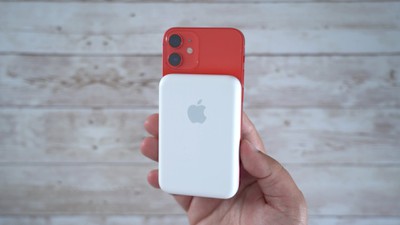 Apple's MagSafe Battery Pack looks thin in marketing photos, but in real life, it's quite a bit thicker than it appears in Apple's images. The MagSafe Battery Pack weighs in at 115 grams and it is 11mm thick. Comparatively, the ‌iPhone 12‌ weighs 164 grams and is 7.4mm thick.
Charging Speed
The MagSafe Battery Pack charges an ‌iPhone 12‌ model at 5W when out and about, with Apple limiting charging speed due to heat concerns and to prolong battery life.
When the MagSafe Battery Pack is attached to an ‌iPhone‌ and plugged in to a Lightning to USB-C cable that's connected to a 20W or higher charger, the ‌iPhone‌ is able to charge through the MagSafe Battery Pack at 15W.
Most people will need the MagSafe Battery Pack while on the go, and in this situation, it's good to be aware that charging is limited to a slower 5W speed.
Viewing Charging Status
The power level of the MagSafe Battery Pack can be viewed in the Batteries widget that can be placed on the Home Screen or accessed through the Today View. MagSafe Battery Pack battery level is displayed alongside the ‌iPhone‌, Apple Watch, ‌AirPods‌, and other connected accessories.